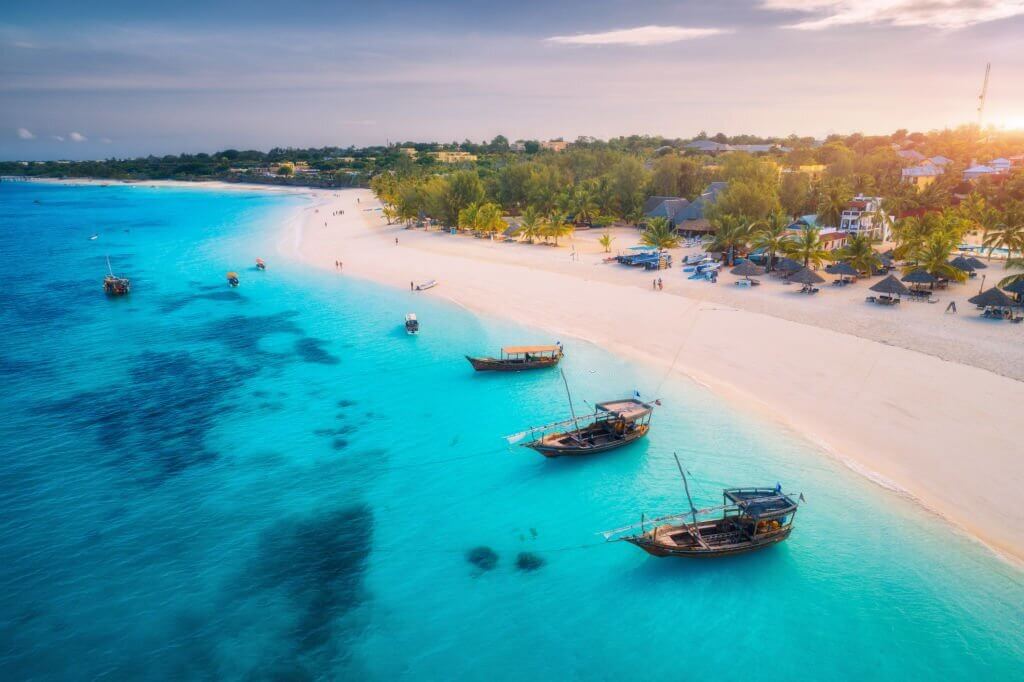 Zanzibar one-week itinerary: The ultimate guide the spice island
A week in Zanzibar provides you with everything you could want: palm-fringed beaches, powdery white sand, historical villages and towns, vibrant markets, and more. This off-the-beaten-path island off the east coast of Africa is perfect for adventurous vacationers. Here's all you need to know about planning a perfect week in Zanzibar.
What makes Zanzibar unique?
After spending two weeks in Zanzibar, we would recommend it to three types of travelers.
Those on a budget who want to see the beautiful scenery of places like the Seychelles or the Maldives. Unlike those two nations, Zanzibar features a number of affordable all-inclusive resorts.
Those who enjoy learning about a new country's rich culture and intricate history while simultaneously enjoying picturesque views and beautiful beaches.
Those looking for a luxurious yet distinctive honeymoon or romantic getaway destination. Zanzibar has no shortage of ultra-luxurious resorts and hotels. This assures that honeymooners have the best facilities while touring Zanzibar's little villages, spice plantations, and isolated beaches.
Before you go, be informed
When you arrive in Zanzibar, you must present your yellow fever vaccination certificates, so make sure you have them with you.
Tanzania charges a fee of USD50 for nationals of most countries, including India, the United Kingdom, and the United States. Upon arrival, you will be requested to fill out a brief form, after which the visa will be granted. We had a fairly smooth experience and were not asked for any supporting papers.
Zanzibar's best time to visit
From June through October, when the weather is mild and dry, is the best time to visit Zanzibar. However, the months of December through February are also fantastic. The weather is hotter, but it is dry, and there are fewer people around. We visited Zanzibar in November and, while some afternoons were oppressively hot, we had a great time.
Many tourists who are already in Tanzania take the direct ferry (3 hours) or a short flight from Dar es Salaam (15 minutes).
Zanzibar tourist attractions
Zanzibar is a one-of-a-kind location in that there aren't many tourist attractions to view. Instead, some of the richest things here can be discovered just by staying in the thick of things and exploring through the byways or down the beach. Having said that, here are ten things to do and experiences to have in Zanzibar that we highly suggest.
Choose from a variety of watersports such as diving, snorkeling, and boating. The waters of Mnemba Atoll are among the purest in the world, ideal for water sports.
If you're staying in the vicinity, take a walk to the fishing villages in Chwaka Bay and connect with the locals.
Try the Zanzibari pizza, samosas, and freshly squeezed fruit juices at Forodhani Market, or just absorb in the ambience if you don't have a strong stomach.
At Stone Town's Darajani Market, get to know the native spices and cuisine.
Make a reservation at The Rock, a picturesque restaurant. To be honest, the setting is beautiful, however The Rock's food could be better for the price. As a result, we recommend stopping over for a drink or some appetizers.
Explore ancient sites like the Old Fort while shopping for souvenirs in Stone Town. At sunset, stroll along the port.
At Kendwa Rocks' full moon celebration, you can dance the night away.
On a day trip to Canggu (Prison Island), make friends with enormous turtles.
Enroll in a hands-on activity like a cooking lesson, a village stroll, or a school visit.
From a dhow cruise, take in the sunset. Do you know how merchants arriving in Zanzibar have employed boats since the Spice Route? Dhows continue to ferry commodities from Tanzania's mainland to Zanzibar every day. If you're on vacation on the island, you must board an old-fashioned dhow boat and travel over calm waters as the sun sets.