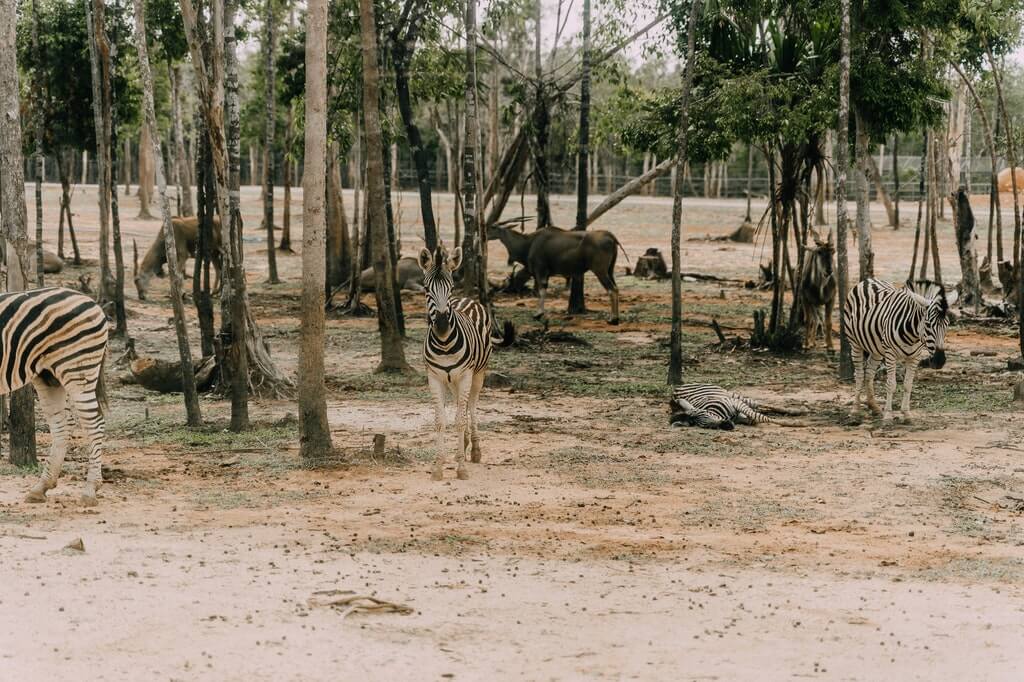 In July, the best African national parks to visit are
July is an excellent month to travel to African wildlife parks because it is the finest season for game viewing. It's the first month of the dry season, and this is when the parks are at their best, offering superb safaris and prime animal viewing and trekking opportunities. The massive migrations are beginning, there are limitless camping alternatives, the shrubs are less dense, and animals converge to water sources, making game watching simpler. As a result of the increased visibility of the animals, there is a considerably better possibility of spotting wildlife. So prepare your travel bags and let's dive to the best of South African national parks.
Elephants can be seen in Zimbabwe's Hwange National Park
Elephants flock to Hwange National Park in Zimbabwe, which has the world's highest elephant population. The park shares a border with Botswana, and the greatest time to see those massive, majestic animals is during the dry months of July. Leopards, cheetahs, lions, wild dogs, and rhinos congregate around the water holes, and you have a high chance of seeing them. It is, without a doubt, Africa's most underappreciated wildlife park, with the greatest diversity of mammals and the world's highest concentration of large animals.
Why July? There will be clear sky and plenty of sunshine, as well as less dense bush for wildlife viewing.
Wildebeest migration in Tanzania's Serengeti National Park
The Serengeti National Park is famous for its huge game-filled grasslands covered with characteristic acacia trees. The Wildebeest Migration begins about this time of year, based on the year's rainfall cycle. In the western and northern Serengeti, visitors can stay in lodges or tented camps to experience the spectacular scenery. Before continuing their journey to the Masai Mara, the wildebeest and bar-coded zebras stop at muddy rivers. You'll have plenty of opportunities to view the Nile crocodile patiently waiting for the four-legged prey to arrive so you can see how the prehistoric reptiles react to the plentiful food.
Why July? Lowest temps and humidity, with plenty of wildlife to see.
Botswana's Kalahari game reserve for African wilderness
The Kalahari Desert is a harshly raw landscape that stretches for thousands of kilometers. The park's size, as well as its remoteness and aridity, make it more difficult to explore than other parks in the vicinity. Nonetheless, when it comes to seeing herds of gorgeous wildlife, the park scores high. Prepare for a once-in-a-lifetime journey as you travel the Kalahari region and learn about Africa's richness. Enjoy glimpses of leopard and lion prides, as well as herds of several hundred elephants, which will fill you with pride if you truly appreciate animals.
Why July? Malaria dangers are lower where there are more wildlife and water canals.
Mountain gorillas can be found in Rwanda's Volcanoes National Park
If you've always wanted to see endangered mountain gorillas, Volcanoes National Park in July is your best bet. An expert and experienced ranger will lead you into the steep forest with a group of trekkers. You will have some rare opportunities to see mountain gorillas up close, feed them, and interact with them. Combining the climb with a visit to neighboring parks and Rwanda's capital, Kigali, is a fantastic idea. Birding, chimp trekking, and other wildlife viewing are all popular activities in the area.
Why July? One of the greatest times of year in the region for gorilla trekking and nice accomodation.
If you are planning to check for a travel agent near me, there is no need to look farther. Travelholics is your best choice of travel agency to assist you in visiting South Africa.